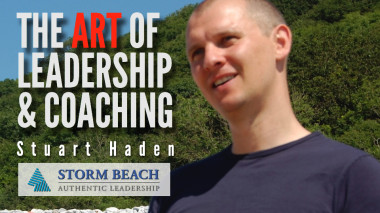 How to hack coaching for optimal performance
Most coaching programmes are not delivering their full potential. At worst coaching is broken. But we can fix that. Here is how we think we can hack coaching for optimal performance…
1) Capability – using two diagnostics we establish how you find flow and how much you can access right now
2) Cost – five 1-hour sessions held remotely (first or last thing in the day) create an affordable programme
3) Choice – trust us to match you to your coach and remove pointless chemistry meetings from everyone's diaries
4) Connection – to keep costs down all our programmes are schedule via phone or Skype
Check out this video for more info or email
stuart@stormbeach.co.uk

to agree your coaching programme. Personal programmes start at £300 and corporate programmes start at £500.

Coaching programme objectives – flow follows focus

Coaching is merely an input, the main prize lies with performance. How can we develop optimal performance via coaching? This is why every coaching programme needs direction, evidence, science, intention, authenticity, readiness, energy, assessment and sustainability. Remember this is a new paradigm of learning because we focus on state, not skills development.
Flow Finder (diagnostics & science) – prior to the programme you will profile how you find flow (preference) and how much flow you can access right now (priority). Dig deeper into the science to establish performance improvements, engineering conditions for flow and developing a 'questing disposition' to more frequently find flow.
Flow Fundamentals (triggers & authenticity) – create intentions around the 17 flow triggers that relate to mindset, environment, group dynamics and creativity. Being authentic and making your values valuable.
Flow Frameworks (cycles & coachability) – design your work and life to incorporate the struggle/release /flow/recovery cycle so that you achieve flow more often. Make informed choices about coaching and discover readiness for accelerated learning.
Flow Fit (energy & practice) – incorporate 5 energy hacks on a daily basis so that you can you harness your soul, body, heart, mind and spirit energy. Know whether you need to pay attention to your energy (in) or to the energy of others (out).
Flow Final (diagnostic & assessment) – returning to our initial diagnostics we can evaluate progress, shift goals and create sustainability in the pursuit of flow.
To reduce admin and create a habit forming accountable environment all of the programme elements are housed within an online platform. For more information on the programme objectives check out this short video.
Email 
stuart@stormbeach.co.uk

 to access more flow via one of our coaching programmes. Personal programmes start at £300 and corporate programmes start at £500.
"Are you being true and authentic to your potential position?"
– It's Not About The Coach