Written by Stuart Haden on November 28, 2013
After 5 year of research, writing and hard work my book It's Not About The Coach is finally due for release on Friday 29th of November!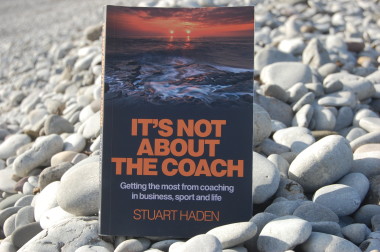 If you have liked the free content that I have shared in the last three postings (possibilities, perception, & performance videos) then the book of course goes even deeper. I have now filled the much needed gap to provide the required support (and challenge) for coachees who are considering coaching as means of self development. The book inspires coachees to…
make informed choices about coaching
discover readiness for coaching
develop the values required by coachees
As the first recognized text to hit the bookshelves I focus on the coachee so that he/she can get the most from coaching in business, life and sport. The book is also aimed at coaches who need to navigate the learning journey for their coachees and accelerate the results. This approach can improve engagement at initial meetings and ensure that coachees don't loose momentum.
I would be grateful if you could do what you can to let the world know!! The more that goes out on social media, blogs, articles, reviews, newsletters, forums and smoke signals (!?) etc the better. For more information and to buy a copy please visit my website http://www.stormbeach.co.uk/book/