Written by Stuart Haden on May 21, 2014
A year or so ago I came across Soul Biographies by Nic Askew, and I quickly signed up for his weekly films. The word soul initially grabbed me and I couldn't resist when I read Nic state 'When the soul is caught between the frames of a film, the viewer might catch sight of their own reflection.' Nic's films have always been part of my routine to connect with greatness. The black and white imagery evoking all sorts of feelings as his subjects arouse.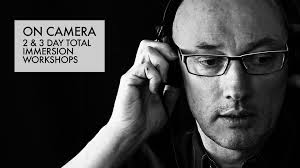 Then I spotted something that really caught my attention and joined forces with my work on so many levels, his Authenticity On Camera Series. I couldn't agree more with the opening line – 'TO TELL A STORY WELL with compelling authenticity can change everything.' Nic will be running workshops on how authenticity can be captured on film. His idea to work with four members of an organisation is intriguing, and I can only see this leading to resonant stories that will look and sound great.
As Nic might encourage – cancel out all distractions, focus and get your ear plugs out. Maybe you'll immersive yourself in the authentic story of your organisation…
http://nicaskew.com/product/on-camera/