Written by Stuart Haden on June 12, 2015
By turning a well know phrase on its head (work out) we can focus on what it takes to be more authentic – a work in. Yes the Western working world all too often rewards us (real or perceived) for what we show to others. But often it's the improvements you make behind that scenes that really matter.
Lifehacker UK were kind enough to publish my recent article titled – Be Authentic by Completing a Work In, not a Work Out. The essence of this article is that it is OK to be reflective and introspective, looking inwards, not outwards. Then at a later date you can acquire and apply new skills that may or may not be visible to others.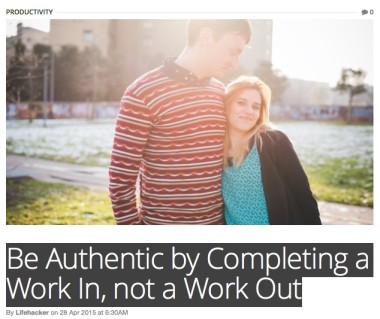 This will then allow you to align yourself to the external environment. You might not be completely up to speed in your performance but that is OK also. Being skilful is key here. Maybe not initially but soon enough a skilful display of your inner values will lead to success.